17 °C
2020. May 26.
01:45 CEST

Location:
The apartment is situated in Marbella, on the sandy beach of Costabella, in Spain's exclusive resort-paradise of west Costa del Sol. This is half way between Malaga and Gibraltar. You will never forget the summer spent on the beach with its slowly deepening water.

The apartment is located in the heart of the Alvarito Playa residential community, in tropical surroundings, just 150 meters from the sandy beach. The 113 m2 ground floor apartment suitable to house 6 persons comfortably is located in a well protected residential community of several hectares fenced on all sides, with 0/24 reception service and central closed circuit video supervision.

There is a Hungarian speaking helper all year round to receive and help the guests.

Arrangement:
There are colour televisions in the living room and one of the bedrooms, the kitchen is equipped with microwave oven, tea and coffee maker. The equipment also includes washing machine, iron, mobile child bed, DVD player.
A central (individually adjustable) HVAC system ensures the even temperature of the rooms regardless of the season.

There are a table for six and two sun-beds in the lockable terrace.


3 swimming pools (one of them just a few steps from the entrance door) two tennis courts and a mini football court offer the opportunity for active recreation in an enchanting ambient.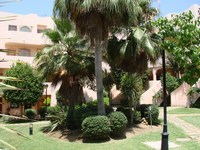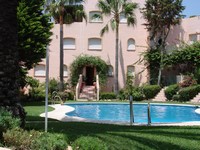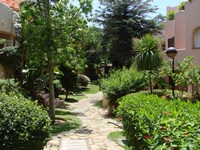 All of the services mentioned above ARE FREE OF CHARGE.
Access to the apartment:
There is a toll free motorway that will take you from the international airport to Alvarito Playa which is located at a distance of 40 kilometres. Bus, taxi and rent a car are readily available, and upon request we will help you arrange them. To rent a car in Spain you will need an embossed credit card, and the rented car that you booked by internet or fax could even be waiting for you at the airport. Yellow Car is a well proved company that provides full scale insurance, for further information see:
www.yellowcar.com
Distances from the apartment:
A well stocked store of the OPEN-COR chain store open 24 hours is just at the end of the street. Adjacent to it there is a newspaper stall and a gift shop. For big time shopping it is better to visit the La Canada shopping mall in central Marbella.
- Sea: 150 meters
- 24 hours shop: 250 meters
- Filling station: 300 meters
- Pharmacy: 290 meters
- English language school for children and nursery schools: 500 meters
Sites in the vicinity that you shouldn't miss:
- Marbella old town
- Marbella main square
- Marbella marble esplanade
- Puerto Banus
Places for entertainment: The two best daytime beaches in Marbella are Niki Beach (3 km) and Bono Beach (1 km), easily accessible by foot through a few minutes walk along the sandy seaside.
Excursion targets within a few kilometres drive:

- Mijas
- Istan
- Benalmadena
- Malaga
- Nerja
- Gibraltar
- Tarifa

Should you have any questions feel free to contact:

Imre Huszár
Telehone: +36 70 331 5130
E-mail: imre.huszar@yahoo.hu

Mónika Mészáros
Telehone: 34/622750626
E-mail: meszaros.monika.09@kodo.hu

Apartman Marbellán
Marbella-Costabella Ave de Andasol, Alvarito Playa 6. 1/1
Mónika Mészáros | Telephone: 34/622750626
E-mail:
meszaros.monika.09@kodo.hu